High Speed Wireless Internet for Montezuma County
and Southwest Colorado
Couple Builds High-Speed Wifi Network for Rural Montezuma County
New broadband company seeks to connect Montezuma County
By Stephanie Alderton – Friday, Sept. 8, 2017 1:43 PM
While officials from local governments to business leaders in the private sector search for solutions to Montezuma County's limited broadband, two Dolores residents are aiming to improve the performance of the county's sleepy sluggish internet speeds. Read full article at the Durango Herald

Bridging the Digital Divide
Cobber Connections: Frustrated with slow to nonexistent internet service, a Concordia alumnus and his wife built their own. Read the full article here.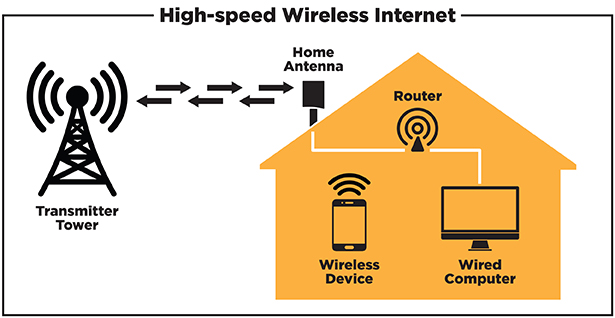 How it works:
A home antenna is mounted externally on the house. This communicates with transmitter tower that connects to the internet.
A router is housed inside the home to distribute WiFi to multiple devices. Encrypted data streams provide secure and reliable connection to the internet.
What to expect:
With a larger faster connection, your home wireless will host seamless enjoyment of multiple devices for the whole family.
A technician will perform an onsite survey of your property to validate line-of-site connection to the Zumacom network.
The exterior installation of the compact light-weight receiver is of minimal impact and is installed typically in one visit.
Subscribers enjoy free Zumacom member access to online account bill pay and support ticket monitoring.
Along with locally dispatched technical support, your subscription includes remote maintenance and product service updates, and if needed remote trouble shooting for seamless enjoyment and on-going support of the installed equipment.
Who we are:
Zumacom is based in Montezuma County and was formed to meet the need for high speed internet in the rural settings of Southwest Colorado.
Zumacom has launched a wireless network that delivers the best internet experience possible: ultra-fast, secure, high-speed internet delivered over our next generation WiFi network. Our WiMax radio equipment deliver high bandwidth at affordable prices. With Zumacom, customers get the best performance from their Smart TV, Blu-ray DVD Player, MMP Gaming Consoles, Desktop, Laptop, and growing array of in-home smart devices.
With 15+ years of professional experience designing and deploying advanced network solutions, Zumacom is the best choice for reliable, high speed home internet service.